Replacing with RS-422
Disconnect the interface connector from the cartridge, and also disconnect the cable connected to the board.

As shown below, attach the cable connector so that the cable's red wire is at position 1. Attach so that the port with the red wire is on side B.

Insert the RS-422 interface connector into the cartridge and tighten the screws.
Termination Resistor Setting
Termination resistor setting is necessary when using RS-422/485 isolated x 2. Set up by referring to the following table.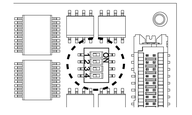 | Dip SW | OFF | ON | Port |
| --- | --- | --- | --- |
| 1 | Normal | Termination | For RS-422 (port identified with a red wire) |
| 2 | Normal | Termination | For RS-422 (port not identified with a red wire) |
| 3 | Normal | Termination | For RS-485 (port identified with a red wire) |
| 4 | Normal | Termination | For RS-485 (port not identified with a red wire) |