You can connect GP4000 Series to the servo drive manufactured by Yaskawa Electric Corporation to maintain servo controllers.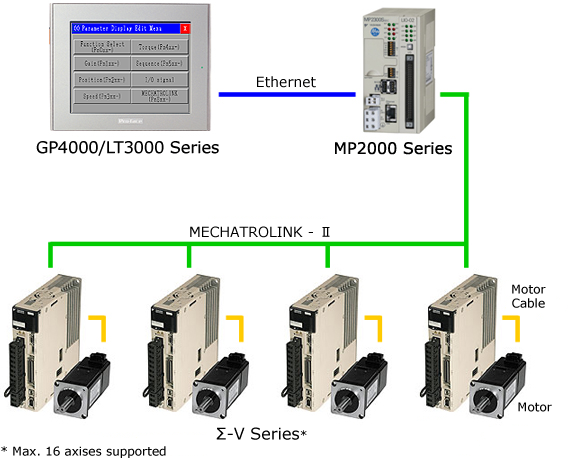 → AC Servo Drive Σ-V Series (MECHATROLINK - Ⅲ Communication Instruction Type)
Features
-
Monitoring and editing of parameters
-
Parameter back-up and restore, possible with SD card or USB stick
-
Alarm and alarm history display
-
Show amplifier and motor information
-
Motion system, servo status and input signal
-
Supporting wiring check
-
Setup of various functions
-
Execute test operation (JOG and Program JOG)
-
Indirect device designation supports function changes of multiple axis (up to 16)



*

GP-4501T and GP-4301T support this connection device sample.


*

GP-Pro EX Ver. 3.01.203 or later is required.


*

We do not guarantee that the operation of this sample will be uninterrupted or error-free.


---
Download the sample program file and detailed description (PDF file).



The combined samples of Servo Drive Connection and Trace function are also available.
Click here to download.