SP5000 Series



Installation Procedure of Windows Update



When some Windows Updates required for installing MDA Utilities have not been installed in your computer, the following message might be shown after the MDA Utilities Installer runs.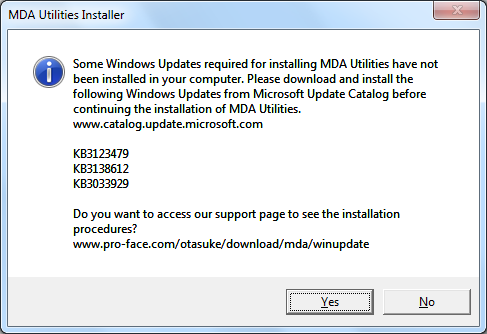 Access the following link to download the Windows Updates displayed in the message.
→ Download KB3123479
→ Download KB3138612
→ Download KB3033929


Select and download the Windows Update corresponding to the target computer system.


To confirm the target computer system, open the Control Panel > System and Security > System.




Copy the downloaded Windows Update to the target computer.


Run the Windows Update and install it following the instructions. After the installation, it may be neccesary to reboot the computer.






Trouble Shooting



When run the Windows Update, following error may occurred if Windows Update Service is disabled. Please Enable Windows Update.

[Procedure of Enable Service]
Control Panel > Administrative Tools > Servises > Select "Windows Update" Action > Properties > set Startup type to "Automatic (Delayed Start)", "Automatic" or "Manual" and push Start button.

We recommend to reset to the original status after installed Windows Update.