7.6 Connecting Multiple Display Units to One Device/PLC (Ethernet Multilink)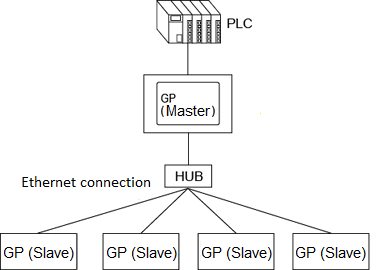 One master display unit and a maximum 16 slave display units can be connected to one PLC simultaneously.
Only the master display unit communicates with the PLC. Slave display units communicate with the master display unit.

Please refer to the following for models that support Ethernet Multilink settings.
1.5 Supported Features

GP-Viewer EX can be connected only to the master display unit. Refer to the following for information on GP-Viewer EX.
37. Viewing and Operating Display Unit Data from Your PC

If you want to connect multiple display units using serial connection (Serial Multilink feature), see the GP-Pro EX Device/PLC Connection Manual.
7.6.1 Procedure - Connecting Multiple Display Units to One Device/PLC (Ethernet Multilink)
7.6.2 Procedure - How to Calculate the Communication Traffic