EtherCAT (Controller)
NOTE:
When this interface is attached to the product, it does not comply with DNV certification.

When this interface is attached to Advanced Box or Advanced Type, the FAN kit is required.

When this interface is attached to the product, use in the following environment.

Ambient air temperature:

Advanced Box or Advanced model with FAN kit: 0...45 °C (32...113 °F)

Standard Box or Standard model: 0...40 °C (32...104 °F)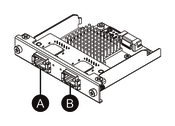 EtherCAT interface

Not available (reserved)
Specifications
Product number

PFXYP6MPECAT

Connector

Modular jack (RJ-45) x 2

Standard

IEC 61784-2 RTE CPF12, ETG.1020, ETG.1500, ETG.2100, IEEE 802.3

Power consumption (max.)

3.0 W

Link speed

100 Mbps

Maximum communication distance

100 m (328.1 ft)

Number of connectable slaves

200 (max.)

Cycle time (min.)

205 μs

NOTE: Depending on the used number of slaves and the used number of cyclic input data and output data. Recommended cycle time is 1 ms or more.

Cyclic data (max.)

Input: 5,760 bytes, Output: 5,760 bytes

CAUTION
Do not put excessive stress on the communication ports of all connections.

Securely attach communication cables to the panel wall or cabinet.
Failure to follow these instructions can result in injury or equipment damage.
LED Indications

LED

Color

Indicator

Description

RUN

Green

ON

Operational

Single Flash*1

Safe-operational

Flickering*2

Boot

Blinking*3

Pre-operational

OFF

INIT

ERR

Red

ON

Communication error

OFF

No errors

Link

Green

ON

Link to Ethernet

OFF

Not linked to Ethernet

Active

Yellow

Flickering

Sending/Receiving Ethernet frames

OFF

Not sending/receiving Ethernet frames
*1 Single flash: Repeats 200 ms ON and 1 second OFF
*2 Flickering: Flashes every 50 ms
*3 Blinking: Flashes every 200 ms