After the data from PLC or temperature controller is collected and recorded, the data can be displayed in various graphs, such as trend graph and bar graph.
It is convenient as a recorder of equipment or system which does not require paper-based records.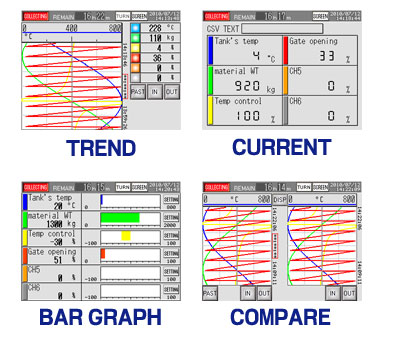 Feature
*

Up to 6-address data can be collected at a constant cycle through communication with connected devices/PLC.

*
Collected data can be displayed in various ways.
(Real Time Trend, Historical Trend, Numerical values in blcok, Bar Graph, and Alarm Monitor)
*

Collected data can be saved (a file name ; date) in a CF card at regular time intervals.



*

This sample is supported only in GP3000/LT3000 series (QVGA color model).


*

The screen editor software GP-Pro EX Ver. 2.60.100 or later is required.


*

We do not guarantee that the operation of this sample will be interrupted or error-free.


---
Download a sample program file and detailed description.