You can connect SP5000/GP4000/LT4000M Series to a robot-controller "R-30ib/R-30iB Mate" made by FANUC CORPORATION and display a state of a robot.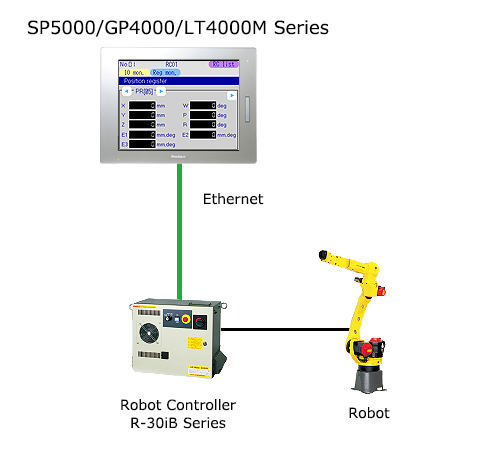 Supported Model
FANUC CORPORATION
R-30ib/R-30iB Mate
Feature
-
Easily connect to a robot controller of the R-30ib/R-30iB Mate Series.
-
Able to check input/output status of standard IO (DO, DI, RI, RO, UI, UO).
-
Display values of standard devices (R, PR, SR).
-
Able to check alarms occurring on a robot controller and their detailed information.
-
Provide monitoring screens of greasing up and battery replacement time for a maintenance screen.

* SP-5400WA , GP-4301T and LT-4301TM support this connection device sample.


*

GP-Pro EX Ver. 4.03.000 or higher is required.


*

To use this sample project, changing the setting of R-30ib/R-30iB Mate is needed.

We do not guarantee that the operation of this sample will be uninterrupted or error-free.
---
Download the sample program file and detailed description (PDF file).