You can connect Machine Controller MP3000 Series manufactured by Yaskawa Electric Corporation with SP5000/GP4000 Series to be able to investigate the causes of various errors and have answers (troubleshooting).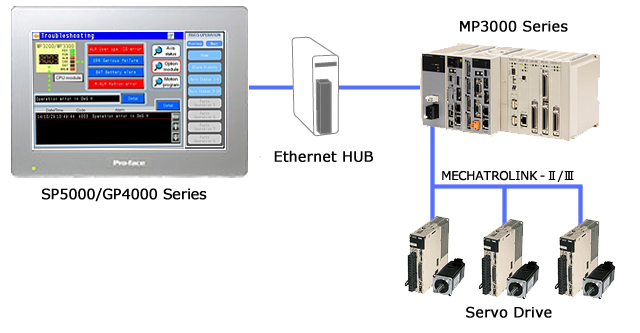 Supported Model
YASKAWA ELECTRIC CORPORATION
Machine Controller MP3000 Series
Features
-
Various registers required for troubleshooting can be monitored without using a dedicated tool.
-
Details of the error generated in machine controller MP3000 series can be checked.
-
Abnormality content is identified based on the LED and the alarm code displayed on the CPU, and troubleshooting and sections to be checked are displayed.Since the alarm code is converted into a message and the related items are displayed, the cause of the alarm can be quickly identified.
-
Maintenance monitor settings of MPE720 are read, and power consumption and predicted life for each axis can be checked by using a bar graph. Power consumption can be displayed by means of a chart in any combination of axes.
-
The Device Monitor (GP series standard function) and the Screen Capture function are prepared.



*

GP-Pro EX Ver. 4.03.000 or later is required.


We do not guarantee that the operation of this sample will be uninterrupted or error-free.
---
Download the sample program file and detailed description (PDF file).