You can connect GP4000, LT4000M series to the inverter "NE-S1 Series" made by Hitachi Industrial Equipment Systems Co., ltd and display a state of the inverter.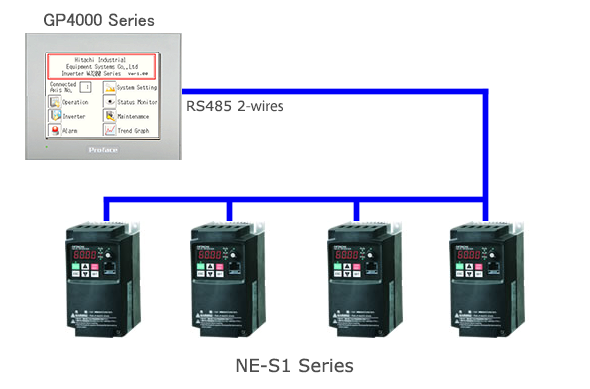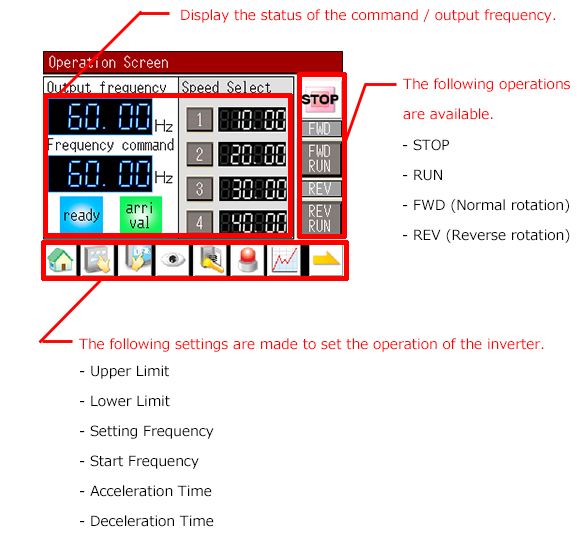 Features
-

Easy connection with the inverter

-

Parameter setting (e.g. acceleration and deceleration) from the touch panel

-
Monitoring alarm information on the inverter
-

Checking a change in the state with a trend graph

-

Registration and selection of a speed level (from 4 levels) for inverter operation

-

Registration of descriptions of alarms which may be generated in the inverter

-

Monitoring the state and operation



*

GP-4301T, LT-4301TM support this connection device sample.
If you use the other models, you can change a model in the GP-Pro EX project file.
For further information, please refer to the manual included.


*

GP-Pro EX Ver. 3.12.000 or later is required.


*

We do not guarantee that the operation of this sample will be uninterrupted or error-free.


---
Download the sample program file and detailed description (PDF file).