You can connect burner controllers BC-R35 Series (Time-limited pilot) manufactured by Azbil Corporation (Former: Yamatake Corporation) with GP4000/LT4000M Series, and BC-R35 Series can be used as a monitoring tool (Time-limited pilot).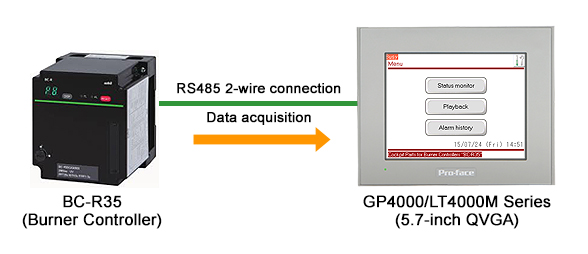 Features
-
Status monitoring screen which allows a user to check the operation state and the input/output state of the BC-R35 in real time
-
Playback display function which displays the state change before and after the lockout occurs (8 seconds before the lockout and 1.9 seconds after the lockout).
-
CSV file save function which outputs the data during playback display as a CSV file.
-
Alarm history screen which displays the general-purpose alarm history display and BC-R alarm in detail.
-
Automatic data collection of detailed alarms for BC-R and data for playback display (Data for 16 times are accumulated in the HMI device.)



*

GP-4301T support this connection device sample.


*

GP-Pro EX Ver. 4.00.000 or later is required.


*

We do not guarantee that the operation of this sample will be interrupted or error-free.


---
Download the sample program file and detailed description (PDF file).