You can connect GP-4501T to a single-axis robot-positioner "TS-X/TS-P/TS-S Series " made by Yamaha Motor Co., Ltd. and display a state of the robot.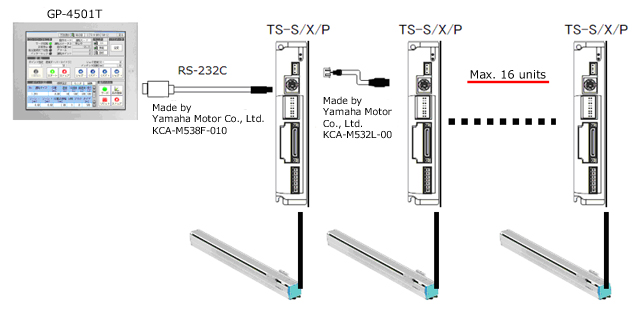 Features
1.
Single-axis robot positioner status (such as current position & current speed) can be checked on a GP unit.
2.
Basic Runs, such as JOG / inching Runs, return to original position and error reset can be controlled from a GP unit.
3.
Point data and parameters can be configured, edited and stored on a GP unit. *For loading / saving to a USB flash drive, only the point data can.
4.
Details of current alarm and alarm history can be viewed on a GP unit.
5.
Up to 16 units can be connected at once with multiple axes support of the indirect device-setting feature (HMI Screen Editor & Logic Programming Software, GP-Pro EX Ver. 3.0).
6.
The four languages, Traditional Chinese / Simplified Chinese / Japanese / English, can be switched any time.



*

GP-Pro EX Ver. 3.01.201. or higher is required.


*

GP-4501T support the connection device sample.


We do not guarantee that the operation of this sample will be uninterrupted or error-free.
---
Download the sample program file and detailed description (PDF file).