You can connect SP5000/GP4000 Series to an electric actuator "LEC Series" made by SMC Corporation with RS-485 communication. Up to 16 actuators can be connected.
Besides, when a touch panel is connected to a controller such as PLC with RS-232C, simultaneous communication to several devices can be done.
And by using LAN port of a touch panel, various data of PLC or LEC series for an electric actuator controller can be transmitted to upper server PC.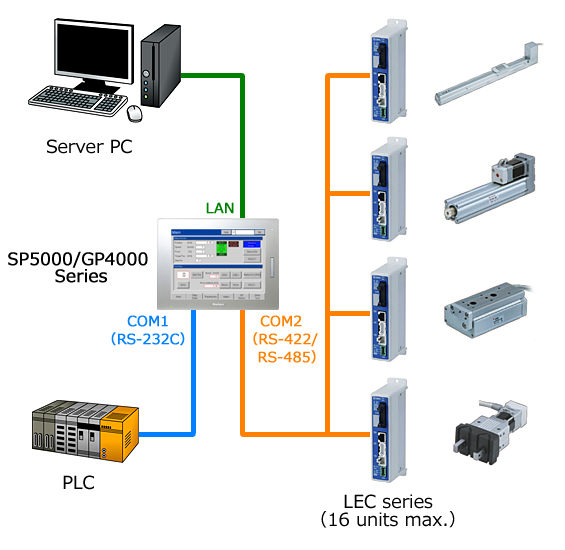 Supported Model
SMC Corporation
Electric Actuator LEC series
Features
*
Actuator status (such as current position and current speed) can be checked on a SP5000/GP4000 Series unit.
*
The basic operations, such as JOG operations, return to an original position and error reset, can be controlled from a SP5000/GP4000 Series unit.
*
Step data and parameters can be configured, edited and stored on a SP5000/GP4000 Series unit.
*
Details of current alarm and alarm history can be viewed on a SP5000/GP4000 Series unit.
*
Up to 16 units can be connected at once with multiple axis support within the Indirect Device setting feature.
*
Test operation for operation check of step data can be performed on SP5000/GP4000 Series unit.



*

GP-Pro EX Ver. 3.01.203 or later is required. For SP5000 Series, GP-Pro EX Ver. 4.03.000 or later is required.


We do not guarantee that the operation of this sample will be uninterrupted or error-free.
---
Download the sample program file and detailed description (PDF file).