You can connect SP5000/GP4000 Series to "In-Sight Vision System " made by Cognex Corporation and change the parameters of In-Sight.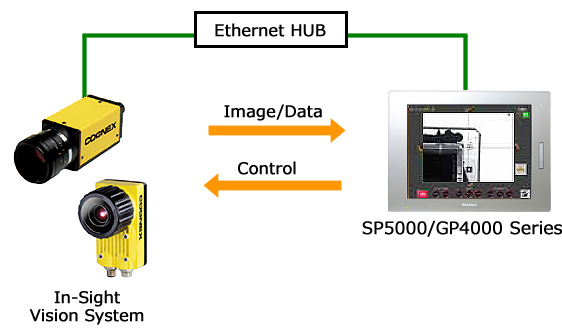 Supported Model
Cognex Corporation
In-Sight Vision System
Features
1.
Display the image of In-Sight on a SP5000/GP4000 Series screen in real time.
2.
No monitor for image processing system is needed.
3.
In-Sight Series of max. 16 units, can be connected and display the images of 3 units at the same time.
4.
The camera in use is selectable, and the display is scalable.
5.
Connectable directly to a SP5000/GP4000 Series unit without PLC.



*

GP-Pro EX Ver. 3.01.101. or higher is required. For SP5000 Series, GP-Pro EX Ver. 4.03.000 or later is required.


We do not guarantee that the operation of this sample will be uninterrupted or error-free.
---
Download the sample program file and detailed description (PDF file).