You can connect GP4000/GP3000/LT4000M/LT3000 Series to a motor driver to operate and surveil a motor.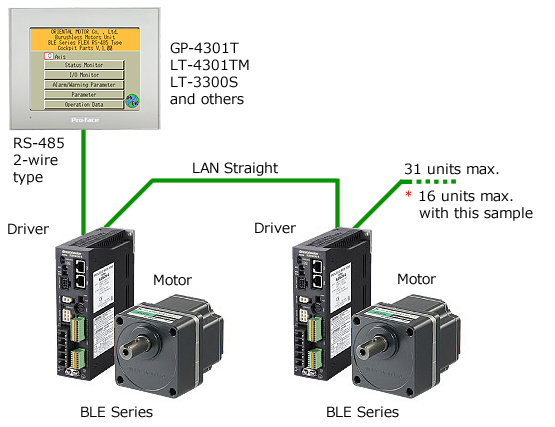 Features
-
Monitor various BLE series information without using dedicated PC software.
-
Connect up to 16 axes worth of BLE series units simultaneously. (Provided you do not exceed 16 axes, you can connect an arbitrary number of axes and the number of each axis is also arbitrary.)
-
Send JOG Operation instructions from an LT series or GP series unit.
-
Upload the motor's parameters and operation data to a USB memory device through the USB port that the LT series and GP series units are equipped with as standard. This uploaded information can then be reused by downloading it to other motors that are connected to the LT series and GP series units.
The operation data is uploaded to a USB memory device as a CSV file, which can be used as general-purpose data.
-
The details of occurring alarms are displayed as text, which is useful when performing the primary maintenance on site.



*

GP-4301T, LT-4301TM and LT-3300S support this connection device sample.


*

GP-Pro EX Ver. 3.01.203 or later is required. GP-Pro EX Ver. 3.12.000 or later is required for LT-4301TM.


*

We do not guarantee that the operation of this sample will be interrupted or error-free.


---
Download the sample program file and detailed description (PDF file).