You can connect GP4000 Series to the servo drive manufactured by Yaskawa Electric Corporation to achieve trace function in a single unit.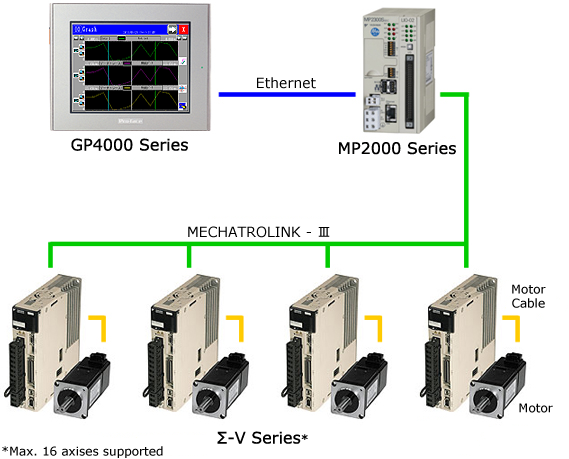 → AC Servo Drive Σ-V Series (Analog Power Voltage, Pulse-train Instruction Type)
→ AC Servo Drive Σ-V Series (MECHATROLINK - Ⅱ Communication Instruction Type)
Main Function
Trace setting
-
Trace is set in the wizard format.
-
Trace-set content is confirmed and corrected.
-
Trace is started with the set content.
Graphical display of the trace results
-
Many types of graphical displays
-
Graph screens are saved in a JPEG format.
[Multiple-axis]
* To specify the device, Indirect Device Specification is used.



*

GP-4501T and GP-4301T support this connection device sample.


*

GP-Pro EX Ver. 3.01.203 or later is required.


*

WinGP cannot be used with the sample(s).


*

We do not guarantee that the operation of this sample will be uninterrupted or error-free.


---
Download the sample program file and detailed description (PDF file).



The combined samples of Servo Drive Connection and Trace function are also available.
Click here to download.