This is the sample to connect Simple Positioning controller "MA100" with SP5000/GP4000/LT4000M Series.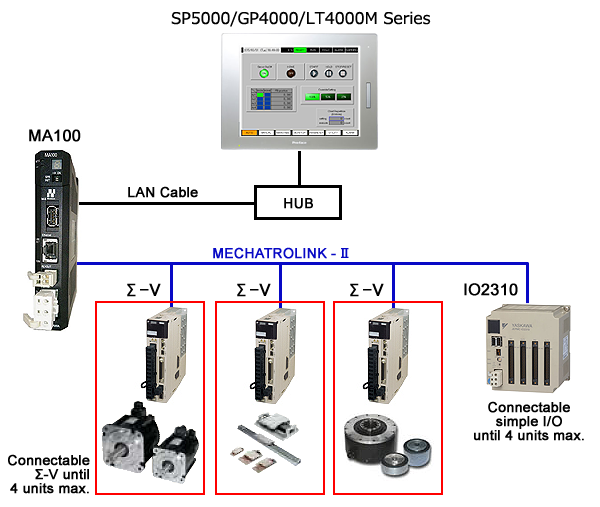 Supported Model
YASKAWA Electric Corporation
Motion Adapter Series MA100
Feature
-
Able to start and stop the program created and registered by support tool soft (MA-Manager)
-
Manual operation (JOG/STEP) of each axis and positioning (ABS positioning) to a target position can be done.
-
Able to confirm the status of present positions of each axis and I/O
-
Able to change and confirm parameter for control of each axis
-
Able to switch ON/OFF of axises, switch languages (Japanese/English), file transmission and reception (external storage)
-
Sample of ∑-V is already builted-in. Trace function can be used.
-
Able to confirm the alarm content of each axis



*

This sample data is intended for the S-V (Rotary) and S-Vmini servos that are connected to MECHATROLINK.


*

GP-Pro EX Ver. 3.12.000 or higher is required. For SP5000 Series, GP-Pro EX Ver. 4.03.000 or later is required.


We do not guarantee that the operation of this sample will be uninterrupted or error-free.
---
Download the sample program file and detailed description (PDF file).